It seems there's
record turn-out in Nevada
on the last day of early voting:
More than 57,000 Clark County voters had cast ballots as of 10 p.m. Friday, the final day of early voting in Nevada.

That number would likely increase into the night, said Dan Kulin, a county spokesman.

"This is the largest single-day, early voting turnout that we've seen," Kulin said. The previous record was set in 2012, when 48,095 voted on the final day of early voting in the county, according to Nevada Secretary of State records.

A handful of polling locations were scheduled to close at 7 p.m., and others were open until 8 p.m. or 9 p.m. depending on location. But closing time didn't mean a voting cutoff — people still in line when polls closed "will still be able to vote," Kulin said Friday, and as of 10 p.m. a handful of valley locations still had long lines.

"The last day of early voting is typically the busiest," Kulin said.
That's pretty normal -- I mean, if people are already in line, stay open until they've been taken care of.
Not according to The Hairpiece: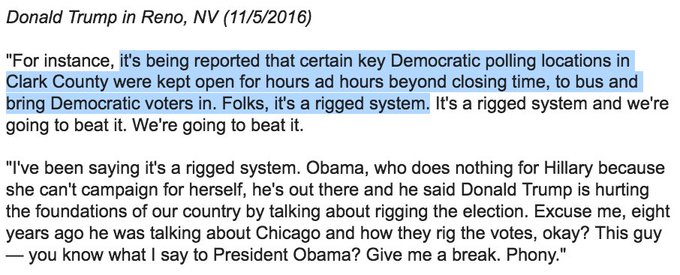 There's
video here
, which WaPo doesn't want me to embed for some reason.